GALVANIZED STEEL WIRE STRANDS (ASTM A 475)
ASTM A 475,LOGGING
HOME > GALVANIZED STEEL WIRE STRANDS (ASTM A 475) > ASTM A 475,LOGGING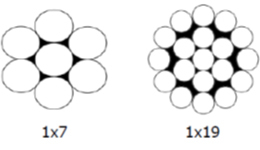 Galvanized Steel Wire Strands 1x7, 1x19
Applications: Guy Strands / Messenger Wires / Span Wires
Features:
» Excellent corrosion resistance
It meets or exceeds ASTM A475 and CSA-G12 Specification.
It combines the strength of high carbon steel wire with the excellent corrosion resistance of class A, hot-dip zinc coating.
It is normally recommended to power transmission industry, construction industry,
communication industy and other guying applications.
ASTM A 475

CSA-G12 CLASS A ZINC COATING (METRIC)

CSA-G12 CLASS A ZINC COATING (IMPERIAL)

---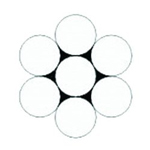 BUNDLING WIRE FOR LOGGING 1X7
Applications: Forest logging industry
Features:
» Highest breaking strength
It is used in the forest logging industry with high quality products
and has the highest breaking strength in the industry.
It is available in reeless packs.
It also ensure a quality crimp with aluminium crimping sleeves.
---