FIBER ROPE
SLING
HOME > FIBER ROPE > SLING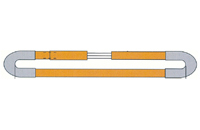 Round Sling
Roung Sling made from Technora specially developed aramid fiber for rope application.
Lightest per capacity, and most suitable to rig ultra heavy lifting object.
It has excellent physical properties, such as high strength, low stretch,
lower creep under sustaining tension than HMPE
and high temperature resistance allows use under working temperature up to 350℉.
Because of good bending fatigue resistance,
it is also recommended to use over sheaves or flexing applications.
The strength is higher than steelwire rope sling if same diameter
and weighs merely 1/8 of steelwire rope sling.
Light weight and flexibility enable easy use in narrow space situations.
Made up for good alternative to Steel Wire Rope Sling, convenient to handle as well.
Get productivity increases.
Light weight reduces risks of back and other industrial injuries to riggers.
Round Sling TABLE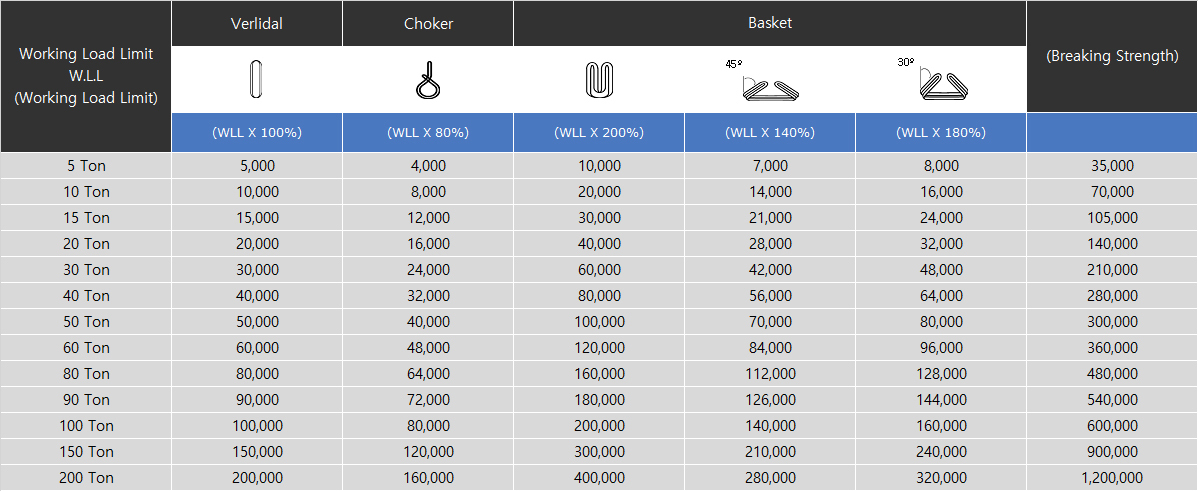 Discard Criteria
» 1/10(10%) damage of belt width, or 1/5(20%) of belt thickness.(abiding by KS B 6241)
» Inner core is cut off through damage with the woven sleeve
» Body is badly worn out.Inner core hardened.
» Inner core hardened.
» Damaged by high temperature or welding.
» The tensile strenght is in doubtful condition when visual inspection.
Storage
» Well ventilated and dry space which keeps bacteria from reproducing.
» Keep away from heat and a direct ray of the sun.
» Keep away from severe cold to prevent sling damage.
---